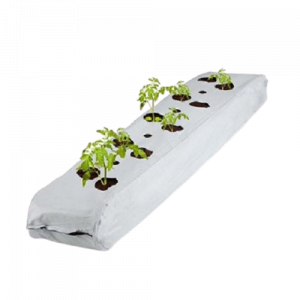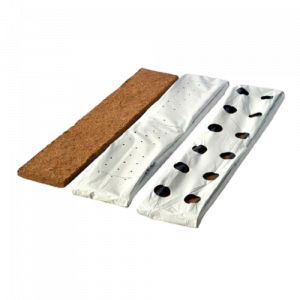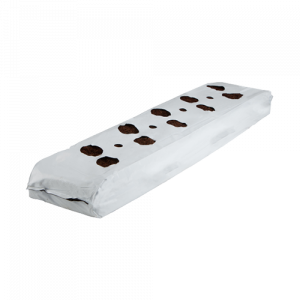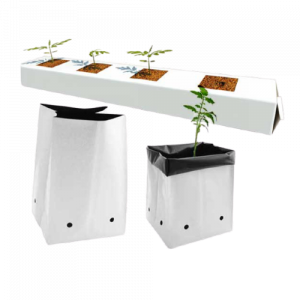 Coco coir grow bags provide excellent aeration and irrigation facilities for the growth of Plants. Featuring a special blend of coco chips and coir pith, these Coco Coir Grow bags provide excellent air to water ratio for hydroponics. The Plant holes, drip holes, and drainage holes can be predetermined and customized to suit the needs of farmers.
In the Coco coir grow bags, the plants can be directly planted and grown. Plant holes on the upper surface of the grow bags to accommodate the crops to be planted. Drainage holes may be provided for excessive irrigation. They are offered in varying thickness, size and weight, depending on the client's preferences.
Grow slabs are packed in high density UV-treated plastic bags. Medium neutral pH 5.5 – 7 allows to effectively release nutrients and promote vigorous growth of the plants.
Climate status and UV radiation are not the same throughout the world. For areas with high ultraviolet radiation, we offer our customers poly bags with increased UV stability. Similarly, for areas where ultraviolet radiation has no effect, we advise our customers to use naked boards (ie without UV treatment bags), which is cost effective
Coco Peat / Coir Pith Grow Bags
Technical Specifications
Type
Specifications
Size
100×15, 100×18, 100×20, 100×25 cm
Material
As per clients Requirement (Coco peat/ Husk chips/ Short fiber – Mixed in ratio)
Particle size and mixing ratio can be change as per the buyer's requirement.
Weight
3kg
Compression ratio
5:1
pH
5.5-6.8
Water holding capacity (Dry weight)
20 to 30 Litres
Electrical Conductivity- LEC (millimhos/ cm)
<0.5
Electrical Conductivity- HEC (millimhos/ cm)
>1
Load ability
22 pallets in 40 FCL
Shipping Specifications
Type
Specifications
Packing
Pallets are covered by plastic wrap and strapped by tape. Custom packaging shall also be worked based on customer's need.
Blocks are loaded directly into the container.
Loadability
370 bags / 20 pallets / 7400 bags in 40 HC Container (Varies depends on the size of grow bags)

Certificates
Fumigation certificate, phytosanitary certificate and certificate of origin
Supply Ability
100 MT per month
Coco peat Grow Bags have been proven to increase the quantity and quality of many crops such as strawberries, tomatoes, bell peppers, cucumbers, capsicums, cut flowers, carnation flowers as it is a multipurpose growing medium for vegetables, fruits and flowers.

They are organic, biodegradable and avoids soil degradation.It is easily transportable and 

eliminates the need to replace growing media after every crop if the medium is free from any contamination/disease.

 

Coco Coir Grow bags are environmentally friendly with high water holding capacity.